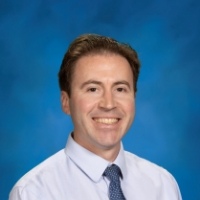 Wallace & Priscilla Stevenson Intermediate Principal
Hello Kodiak Families!
It is my pleasure to welcome you to another great year at Wallace and Priscilla Stevenson Intermediate School. I am proud to be here with such a wonderful staff who do everything they can to ensure that each child will thrive in a safe environment that honors the dignity of everyone. I know the teachers are all looking forward to meeting their new students, and the support staff is eager to welcome them back.
On our website here, you can find a supply list- please do not hesitate to reach out if there is something you are unable to get, or just send your child with what they have- our school has extras to help make sure everyone has what they need.
Each student here is also issued a Chromebook for them to use in class and occasionally take home. With that computer in their hands, they will not need access to their cell phone or other communication devices and we expect them to keep their phones off and in their backpack. Please help your child stay focused in school- if you need to communicate with your child during the school day, please call the office. If you are making plans for them for after school, please try to call before 1:30.
While we remain focused on academics, we also work to teach the values of the Kodiak Code to each student. As Kodiaks we strive to 'Be safe, be respectful, be responsible, and to persevere'. We believe that these values will help our Kodiak students be successful in school beyond our grades, and in life beyond school. We will help our students learn to work together, build empathy, develop self-awareness and self-management, and learn how to challenge themselves and manage a challenge given to them in order to do their best.
Of course, we want our Kodiaks to have fun as well. These last few years have been difficult and in many ways, isolated our children from experiences they need to have as they grow. We hope to allow time for them to connect and build meaningful friendships with each other, and find adults to connect with and see as role-models.
We are looking forward to welcoming your Kodiak Student here on August 30th, I am excited to see them all!
Sincerely,

Brian Fraser,
Principal WPS Intermediate School